When the Burlington 8th Grade girls stepped onto the court to face the Snohomish Panthers this morning, it appeared that we'd have a good, even match. In the first several minutes, scoring was low as both teams played strong defense. After five minutes of play, the score was even at 5-5.
As the game progressed, though, Snohomish took a narrow lead and held it for the rest of the half. A shot from the paint by #32 made it 7-5, and a layup by #31 made it 9-5. At the midpoint of the 22 minute period, the gap had shrunk to two points again, 9-7. Going into halftime, the differential was still only three points: 16-13.
During the second half, the battle remained fierce, and ten minutes into the period the Tigers had tied up the game once again, at 18-18. From there, though, Snohomish began to build a lead, and with 6:40 left in the game, the Panthers held a nine point lead at 27-18.
But then it was Burlington's turn for a run, and over the next two and a half minutes, they hit two consecutive three pointers and a solid 10-footer to close the gap to a single point again, 27-26. Snohomish got on the board again to make it 29-26, but the Tiger #22's jump shot made it 29-28.
And then a referee decided to take over the game, awarding Burlington two points (on no free-throws) for a technical foul called against the Snohomish coach. It was egregious not only because of the fact that it awarded the other team the lead with 1:30 left in the game, but because the coach had done nothing to deserve it: no yelling, no cursing, no interfering with the game. The Tigers took the lead, 29-30.
With 33 seconds on the clock, the Panther's #11 dropped in a shot from under the basket to regain the lead for her team, but a foul was called only two seconds later, and a free-throw by the Tiger's #10 tied the game at 31-31.
And then questionable fouls were called on both teams on each of their next possessions. Both teams made their shots, making it 33-33. With six seconds left, the Panthers' #31 drove to the basket for a layup and was clearly fouled, but this time it was inexplicably ignored.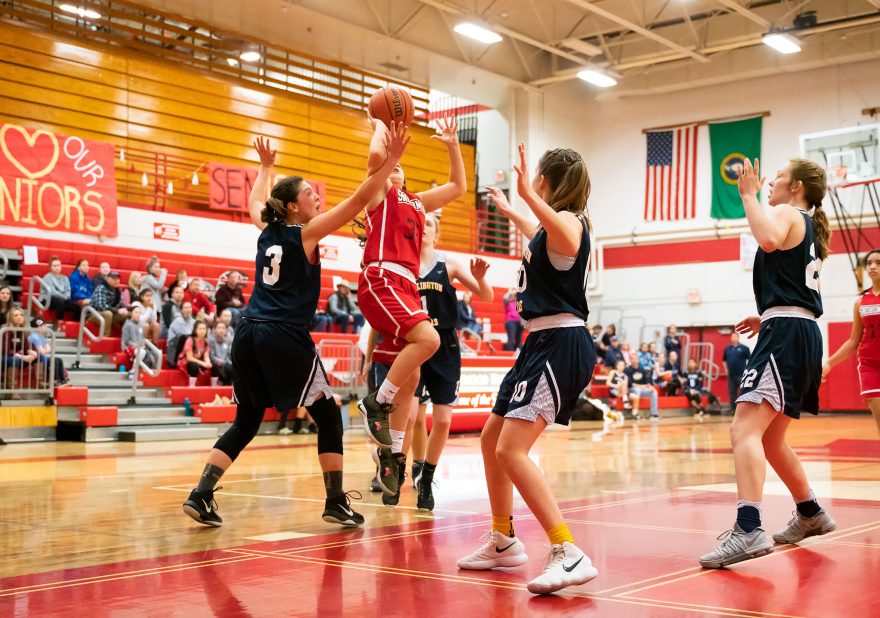 The ball was rebounded by Burlington, and as the ball handler muscled past her defender, the buzzer sounded to end the game… but the referee had blown a whistle first: another foul against Snohomish.
With admirable poise in a very tense situation, Burlington's shooter sunk her second free-throw and won the game. Final Score: 34-33, Tigers.